PERMOHONAN SKIM GERAN UNIVERSITI PENYELIDIKAN BERPASUKAN (RUTEAM) TAHUN 2023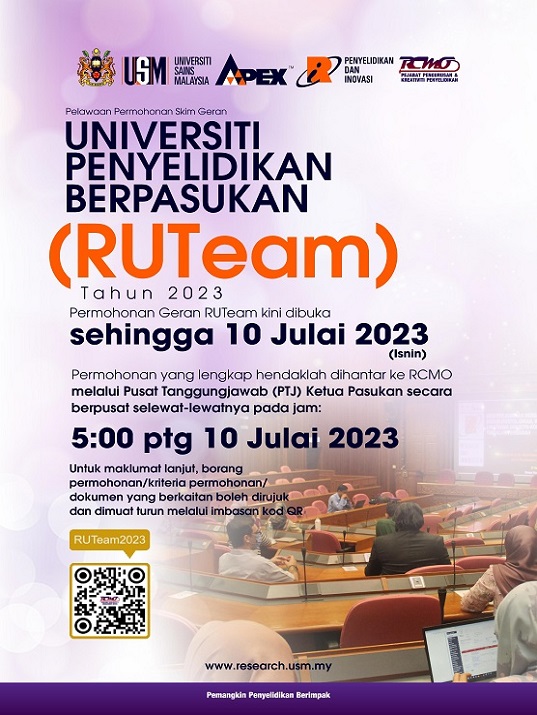 Sukacita dimaklumkan bahawa permohonan Geran Universiti Penyelidikan Berpasukan (RUTeam) Tahun 2023 kini dibuka kepada staf akademik Skim DS/DU/DUF/DUG Gred 45/51/52/53/54/56.
Permohonan Geran RUTeam Tahun 2023 adalah berdasarkan kepada tujuh (7) domain penyelidikan berikut:
(a) Sains Tulen dan Gunaan (Pure and Applied Sciences);
(b) Teknologi dan Kejuruteraan (Technology and Engineering);
(c) Sains Kesihatan dan Klinikal (Clinical and Health Sciences);
(d) Sains Sosial (Social Sciences);
(e) Sastera dan Sastera Ikhtisas (Arts and Applied Arts);
(f) Warisan Alam dan Budaya (Natural and Cultural Heritage); atau
Teknologi Maklumat dan Komunikasi (Information and Communication Technology).
Setiap permohonan mestilah berpandukan pada Garis Panduan Permohonan Dan Tadbir Urus Skim Geran Universiti Penyelidikan Berpasukan (RUTeam) Tahun 2023. Maklumat lanjut berkenaan garis panduan dan tadbir urus serta borang permohonan bagi pembiayaan yang ditawarkan boleh dirujuk di laman sesawang Bahagian Penyelidikan dan Inovasi dipautan research.usm.my(di bawah tab RUTEAM).
Sehubungan itu, semua permohonan perlu dihantar melalui PTJ Ketua Pasukan beserta butiran maklumat permohonan (Rujuk Format Senarai Permohonan Geran RUTeam Tahun 2023 - PTJ) selewatnya-lewatnya 10 Julai 2023 (Isnin) sebelum atau pada jam 5 petang ke RCMO. Sebarang pertanyaan lanjut, boleh menghubungi Puan Nur Fazilah Mohd Kassim (nurfazilah@usm.my) di sambungan 6538 atau Puan Noor Adnie Bajuri (nr_adnie@usm.my) disambungan 6549.
Perhatian semua berhubung perkara ini amat dihargai dan didahului dengan ucapan terima kasih.
Klik di bawah untuk garis panduan dan borang permohonan.