ASM-UKM-SEADPRI FORUM CLIMATE CHANGE AND CITIES ENGAGING IN THE IPCC AR7 CYCLE V2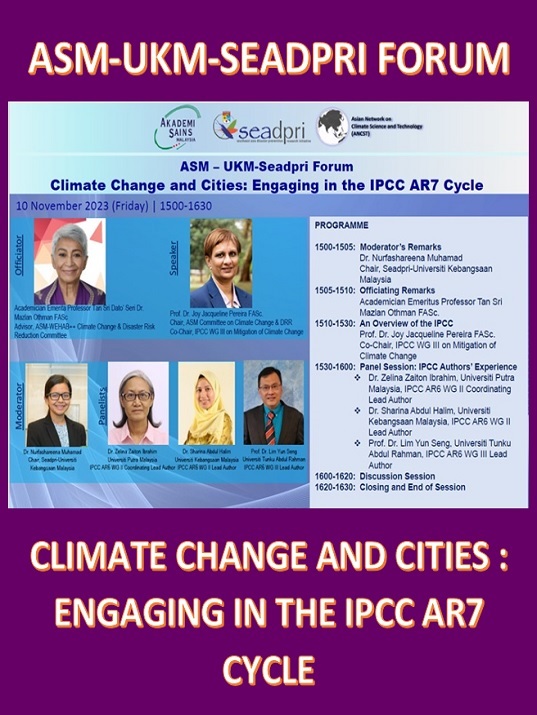 The Seventh assessment cycle (AR7) of the Intergovernmental Panel on Climate Change (IPCC) includes a Special Report on Climate Change and Cities. A Scoping Meeting will be held to develop the scope and outline of the Special Report as well as the process and timeline, for the IPCC Panel to decide on further IPCC work for the Special Report.
ASM through the WEHAB++ Climate Change and Disaster Risk Reduction (CCDRR) Committee led by Professor Dr Joy Jacqueline Pereira FASc will be organising a forum on 10 November 2023 from 3 pm until 4.30 pm via online (Zoom) platform. The objective of this forum is to explain the opportunities available for Malaysian experts by providing details on the background of the report, and nomination process and build capacity on how to complete the nomination forms. Attached is the programme flow of the forum. Please find the forum details below:
| | |
| --- | --- |
| Date | : 10 November 2023 (Friday) |
| Time | : 3.00 pm – 4.30 pm |
| Registration link | |
We would appreciate it if you could kindly extend this invitation to your relevant contacts.
We look forward to participation in this forum and for further inquiries, you may contact Ms Pooveneswary at pooveneswary@akademisains.gov.my or 0173772232.
Best regards.