UNESCO/JUAN BOSCH PRIZE FOR THE PROMOTION OF SOCIAL SCIENCE RESEARCH IN LATIN AMERICA AND THE CARRIBEAN 2023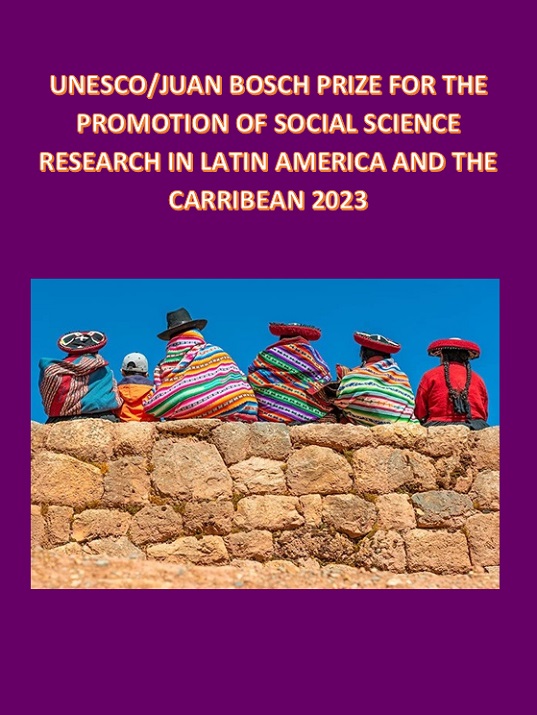 Sukacita dimaklumkan bahawa Bahagian ini selaku Sekretariat Jawatankuasa Kecil Tetap Pendidikan Tinggi, Suruhanjaya Kebangsaan UNESCO Malaysia (JKTPT, SKUM) berkaitan The UNESCO/Juan Bosch Prize. Ia telah diperkenalkan oleh Lembaga Eksekutif UNESCO (EXB), atas inisiatif Kerajaan Republik Dominika bersempena dengan peringatan ulang tahun ke-100 kelahiran Profesor Juan Bosch pada tahun 2009. The UNESCO/Juan Bosch Prize ini merupakan pengiktirafan kepada kerja penyelidikan oleh penyelidik sains sosial muda yang pakar dalam dasar pembangunan sosial berkaitan dengan Amerika Latin dan Caribbean. Penyelidik yang terpilih sebagai pemenang akan dianugerahkan wang tunai sebanyak USD 12,000. Dilampirkan bersama ini adalah syarat-syarat penyertaan (Annex I) sebagai rujukan dan borang pencalonan (Annex II).
Kerjasama daripada pihak tuan/puan adalah dimohon untuk menyebarluaskan pemakluman berhubung tawaran ini di peringkat institusi pendidikan tinggi (IPT) masing-masing. Tesis dan borang pencalonan yang lengkap perlu dikemukakan kepada pihak SKUM melalui emel skum.bha@moe.gov.my dan disalinkan kepada adilla.halim@mohe.gov.my sebelum 30 September 2023.
Untuk pertanyaan lanjut mengenai anugerah ini, mohon dikemukakan secara emel kepada pihak Sekretariat The UNESCO/Juan Bosch Prize iaitu premio.juan.bosch@unesco.org atau skum.bha@moe.gov.my.Permohonan.
Semoga perkara ini mendapat perhatian dan tindakan yang sewajarnya daripada pihak tuan/puan. Segala perhatian dan kerjasama daripada tuan/puan berhubung perkara ini amat dihargai dan didahului dengan ucapan terima kasih.
Sekian.