PELAWAAN UNTUK MENYERTAI INTERNATIONAL TRAINING PROGRAMME ON "LOW-COST TECHNOLOGIES FOR ARSENIC REMOVAL FROM GROUNDWATER" PADA 5 – 6 SEPTEMBER 2023 DI CAIRO, EGYPT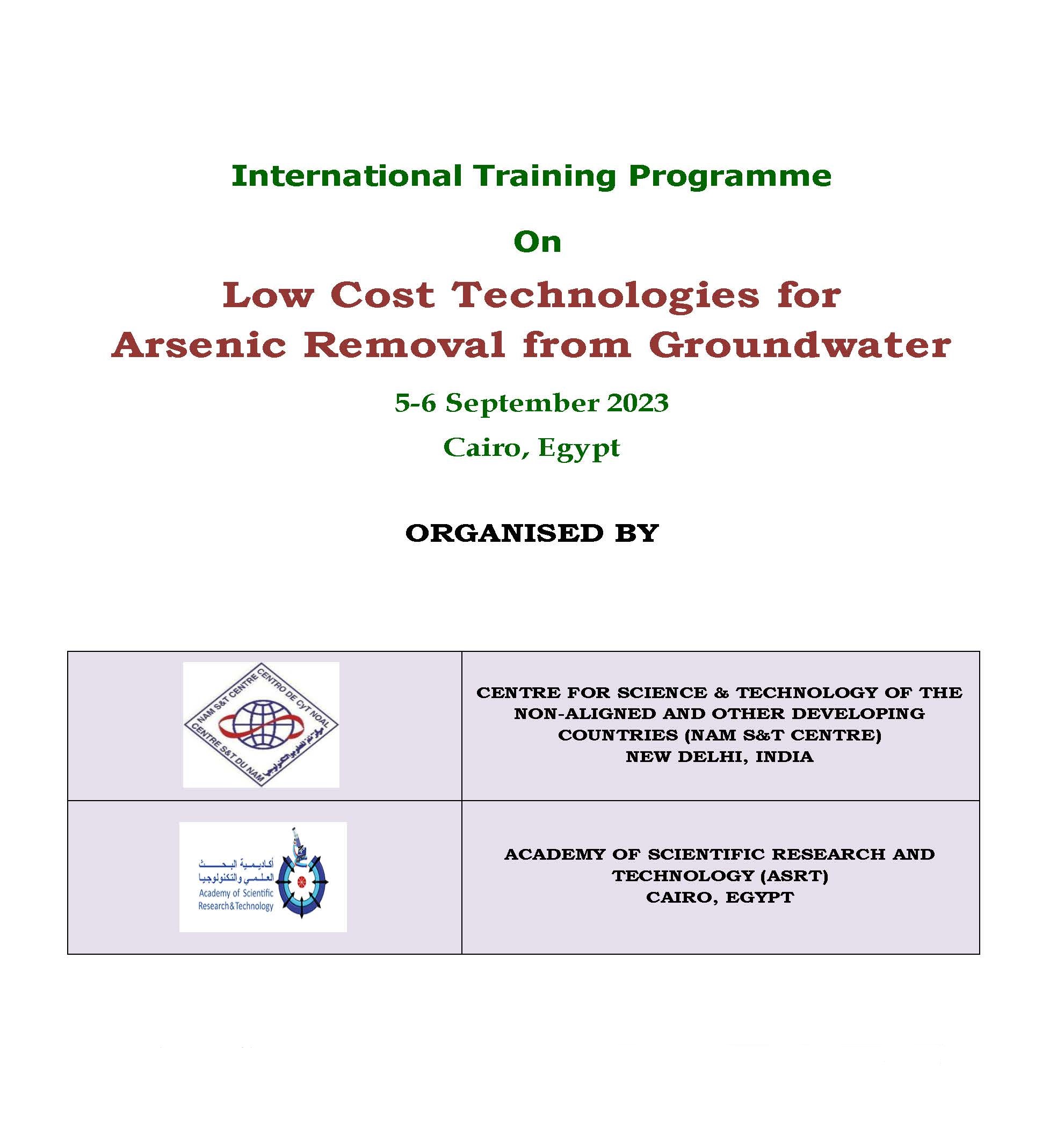 Sukacita dimaklumkan bahawa Kementerian Sains, Teknologi dan Inovasi (MOSTI) Malaysia telah menerima pelawaan untuk menyertai International Training Programme On "Low-Cost Technologies For Arsenic Removal From Groundwater" pada 5 – 6 September 2023 anjuran bersama Centre of Science and Technology of the Non-Aligned and Other Developing Countries (NAM S&T Centre), New Delhi serta kerjasama bersama Academy of Scientific Research & Technology (ASRT), Egypt dan the National Research Centre (NRC) of Egypt.
Untuk makluman pihak YBhg. Datuk/Dato'/Datin/Prof./Dr./Tuan/Puan, topik yang akan dibincangkan semasa bengkel ini diadakan adalah seperti berikut:
Arsenic Exposure on Food and Water in Developing Countries;

Health Issues due to Arsenic Contamination;

Water Purification Technologies Currently being used in Various Countries;

Technological Options for Removal of Arsenic from Groundwater; Non-conventional, low-cost removal methods for water treatment;

Cost effective materials for water treatment;

Innovation in water treatment technology;

New technologies in water desalination;

Any other relevant issues.

Maklumat lanjut mengenai bengkel ini adalah seperti di Lampiran 1.
Berhubung perkara ini, sukacita dipanjangkan pelawaan ini kepada pegawai di Kementerian/Jabatan/Agensi/Institusi YBhg. Datuk/Dato'/Datin/Prof./Dr./Tuan/Puan, yang berminat untuk menyertai bengkel ini. Pegawai yang berminat hendaklah menghantar borang permohonan (seperti di Lampiran 2), serta dokumen sokongan yang berkaitan (dalam format MS Word) kepada shafiqahshaherra@mosti.gov.my dan cplee@mosti.gov.my selewat-lewatnya pada jam 12.00 tengah hari, 4 Ogos 2023 (Jumaat), bagi tujuan saringan dan pengesahan oleh MOSTI selaku Focal Point NAM S&T Centre di Malaysia. Adalah dimaklumkan permohonan yang berjaya akan dihubungi terus oleh pihak NAM S&T Centre selaku penganjur bagi bengkel ini.
Kerjasama dan perhatian pihak YBhg. Datuk/Dato'/Datin/Prof./Dr./Tuan/Puan berhubung perkara ini amat dihargai dan didahului dengan ucapan terima kasih.
Sekian, Salam Hormat.