PENAWARAN SKIM FELO PASCA DOKTORAL (FPD) USM 2023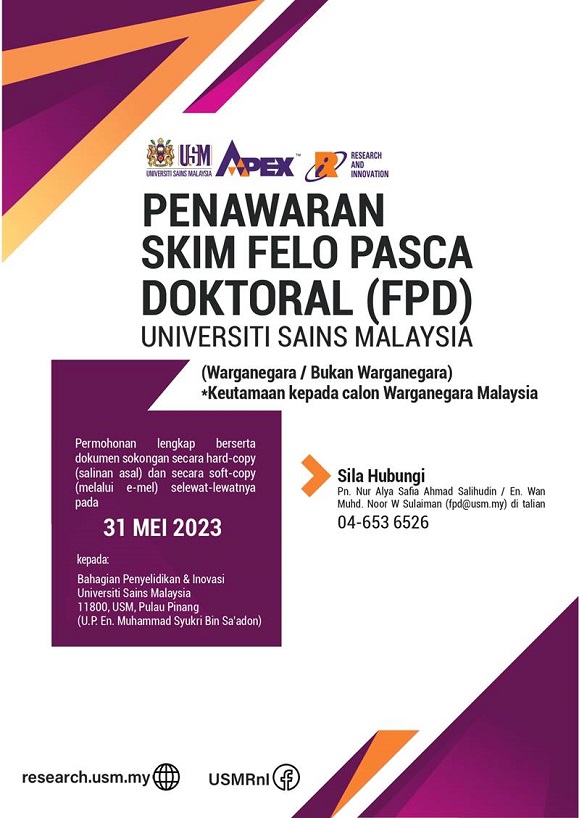 Versi Bahasa Melayu
Sukacitanya dimaklumkan bahawa Universiti akan menawarkan permohonan Felo Pasca Doktoral bagi tahun 2023 bertujuan mendapatkan kepakaran yang dapat menyumbang kepada aktiviti dan pembangunan penyelidikan di Universiti. Keutamaan permohonan sesi ini akan diberikan kepada calon warganegara mengikut syarat dan kriteria yang telah ditetapkan. Tarikh kemasukan/ lapor diri FPD adalah pada 1 Julai 2023.
Sehubungan itu, bersama-sama ini dikemukakan Iklan Penawaran Felo Pasca Doktoral USM 2023 berserta kriteria, maklumat pelantikan dan borang permohonan bagi tujuan hebahan/ iklan di peringkat PTJ serta kepada semua staf akademik dan pelajar.
Borang permohonan yang lengkap perlu melalui dan mendapatkan perakuan di peringkat PTJ kemudian dikemukakan ke Bahagian ini dalam bentuk asal (hardcopy dan softcopy) selewat-lewatnya pada 31 Mei 2023. Borang permohonan lengkap dalam bentuk softcopy perlu dihantar melalui e-mel ke:
fpd@usm.my dan salinan hardcopy dikemukakan ke alamat berikut;
Bahagian Penyelidikan dan Inovasi
Aras 2, Canselori 2
Bangunan E42
Universiti Sains Malaysia
(u.p.: Urusetia Felo Pasca Doktoral)
Kerjasama dan perhatian semua
dalam perkara ini amat dihargai.
-------------------------------------------------------------------------------------------------------------------------------------------------------------------------------------
English Version
It is with great pleasure to announce that the University will be offering applications for Post-Doctoral Fellowship for the year 2023, aim at acquiring expertise that will contribute to research activities and development at the University. Priority for this application session will be given to candidates who are Malaysian citizens, according to the terms and criteria that has been set. The admission/report for duty date is on 1st July 2023.
Therefore, attached herewith is the advertisement for USM 2023 Post-Doctoral Fellowship, along with the criteria, appointment information and application form for the purpose of dissemination/advertisement at the School/ Centre of Excellence/ Service Centre/ Department level as well as to all academic staff and students.
Completed application forms must be processed and endorsed at School/ Centre of Excellence/ Service Centre/ Department level, and then submitted to this Division in their original form (hardcopy and softcopy) no later than 31st May 2023. Complete application forms in softcopy format must be sent via email to:
fpd@usm.my and hardcopy copies must be submitted to the following address;
Division of Research and Innovation
Level 2, Chancellory 2
Building E42
Universiti Sains Malaysia
(Att: Post-Doctoral Fellowship Secretariat)
The cooperation and attention of everyone in this matter are greatly appreciated.