FRANZ WERFEL GRANT FROM AUSTRIA'S AGENCY FOR EDUCATION AND INTERNATIONALISATION (OEAD)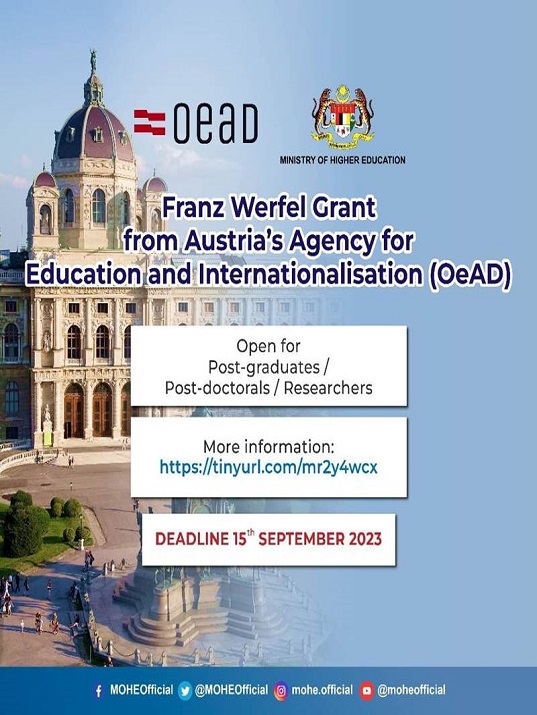 Sukacita dimaklumkan bahawa Austria's Agency for Education and Internationalisation (OeAD) mempelawa warganegara Malaysia yang berminat untuk membuat permohonan Franz Werfel Grant yang sedang dibuka.
Pelawaan ini dibuka kepada warganegara Malaysia berdasarkan kelayakan yang ditetapkan. Tarikh tutup permohonan adalah pada 15 September 2023. Maklumat lebih terperinci berkenaan geran boleh dirujuk di pautan https://tinyurl.com/mr2y4wcx.
Kerjasama daripada semua adalah dimohon untuk menyebarluas hebahan berhubung penawaran ini bagi menggalakkan lebih ramai warganegara Malaysia untuk memohon geran tersebut. Perhatian dan kerjasama daripada YBhg. Dato' Seri/ Datuk/ Dato'/ Datin/ Tuan/ Puan berhubung perkara ini amat dihargai dan didahului dengan ucapan terima kasih.