WORKSHOP ON THE DEVELOPMENT OF DIAGNOSTICS AND THERAPEUTICS IN MOLECULAR 14 MARCH 2023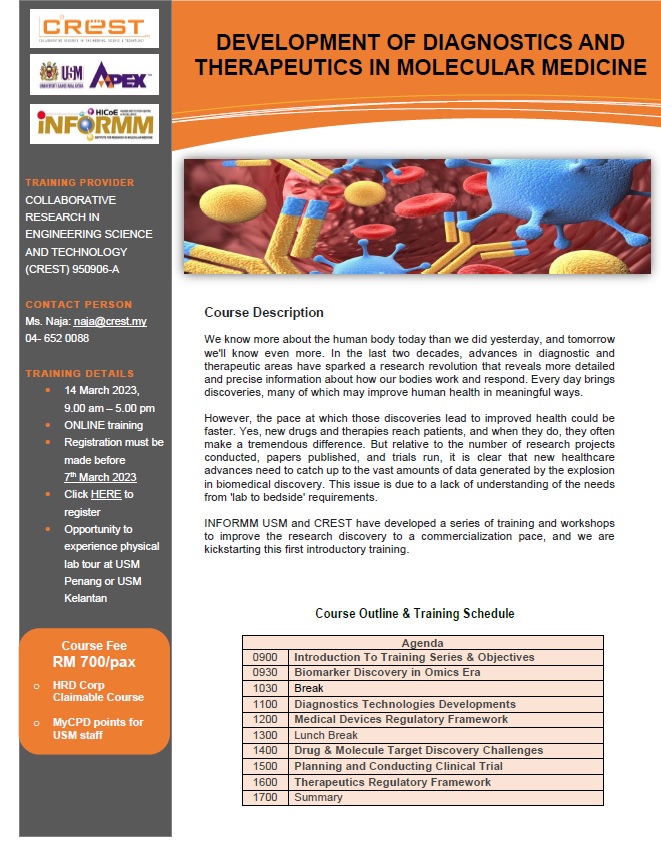 On behalf of Collaborative Research in Engineering, Science and Technology (CREST) in partnership with Institute For Research In Molecular Medicine Universiti Sains Malaysia (INFORMM USM), we are pleased to extend the invite to you for the workshop on the Development of Diagnostics and Therapeutics in Molecular Medicine. This one day online technical training workshop is conducted to help accelerate the development to commercialization of medical diagnostic and therapeutic kits.
More details are included in the attached training brochure. Please also help to share this technical workshop to colleagues and friends involved in this technology or sector.
Shall you have any enquiries, feel free to contact the person in charge at naja@crest.my.